Post Date:
November 28, 2022
---
...IZ KRUGA – VOJVODINA
A coordinator of the SOS service of IZ KRUGA VOJVODINA, Ivana Zelic, gave a speech at the conference Together in Combating Violence against Women, organized by The Women's Parliamentary Network in the Assembly of the Autonomous Province of Vojvodina building on November 25, 2022.
The conference was held within the Campaign 16 Days of Activism against Violence against Women with the aim to connect and strengthen all the available capacities and existing actors in combating gender-based violence and joint effort in finding solutions for the prevention of violence against women.
The conference participants talked about the prevention, causes and consequences of gender-based violence against women, the importance of raising public awareness about the presence of violence and indicated the need for constant promotion of society's response to domestic violence. The Proposal for a draft program for the protection of women from domestic and partner violence and other forms of gender-based violence for the period 2022 – 2026, prepared by the Provincial Secretariat for Social Policy, Demography and Gender Equality was presented at the conference.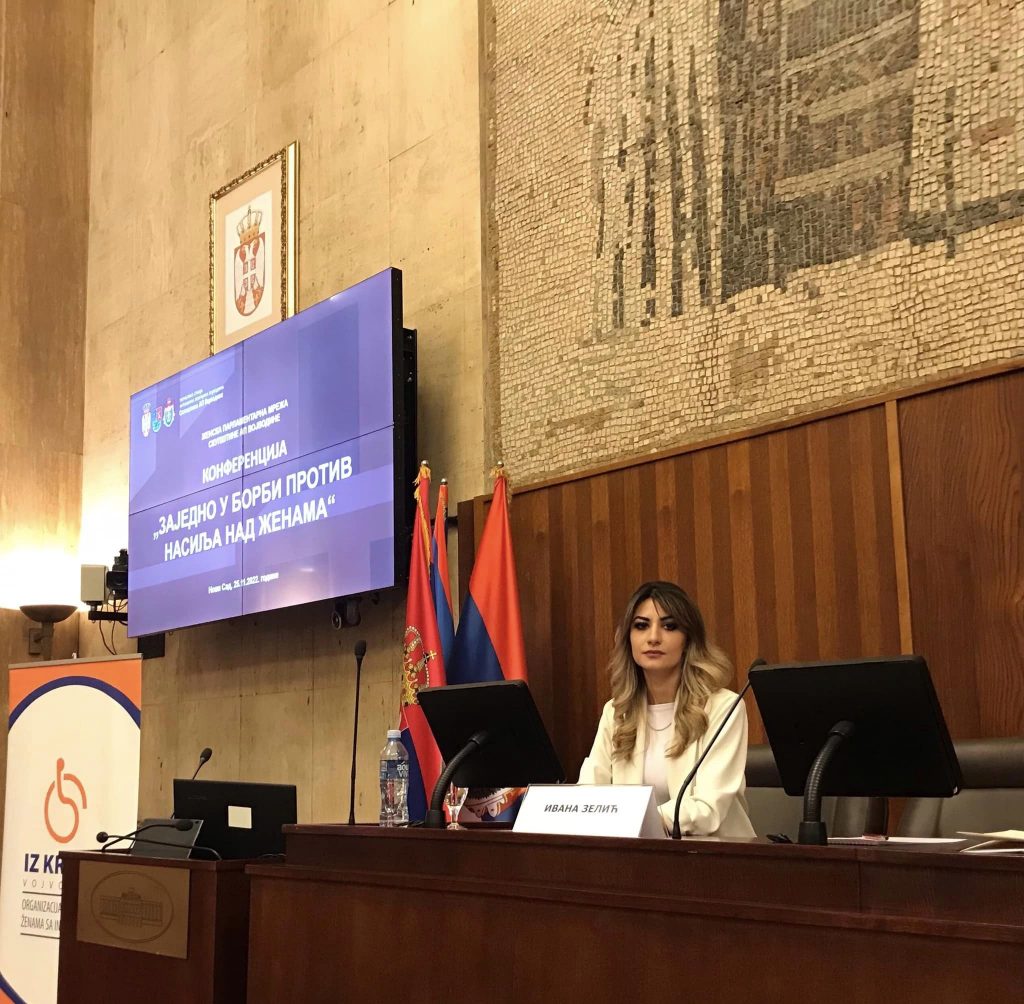 Ivana Zelic talked about providing support to women with and without disabilities exposed to violence, risk factors for violence against women, obstacles women face when reporting violence, discrimination and specific forms of violence against women with disabilities, media reporting about gender-based violence and she presented the guidelines for the acting of professionals when dealing with women with disabilities exposed to violence.
In addition to Ivana Zelic, the following spoke at the conference: Maja Miljkovic, a director of the Provincial Institute for Social Protection, Nevena Montresor, a director of the Center for providing services of social protection Zrenjanin MOST, Djendji Selesi, acting assistant of the provincial secretary for social policy, demography and gender equality and Nada Padejski Sekerovic, manager of the Women's safe house Novi Sad.
Provincial deputies and members of the municipal councils from municipalities and cities from the Autonomous Province of Vojvodina, representatives of the provincial government, the ombudsman and representatives of social welfare centers and NGOs attended the conference.
The conference was moderated by Stojanka Lekic, coordinator of the Women's Parliamentary Network.