---
...IZ KRUGA – VOJVODINA
Radio Koprijan reported on the Organization for supporting women with disabilities …IZ KRUGA – VOJVODINA, on June 8th, 2020. The report was about a string of initiated activities aimed at improvement of the support system for women with disabilities in the situation of violence.
The activities are part of the project accomplished in cooperation with the Agency of the United Nations for gender equality and empowering of women (UN WOMEN) and with the financial support of the European Commission. In addition to Doljevac the project is realized in Uzice, Kragujevac, Mionica, Negotin, Novi Knezevac, Raska, Valjevo, Vranje and Zabalj.
The goal is to raise awareness about the condition of the existing services and the needs of women with disabilities. It also strives to provide new and adapt existing services, making them accessible, available and quality. Furthermore, it provides adjusted models of communication in dealing with women with disabilities victims of violence.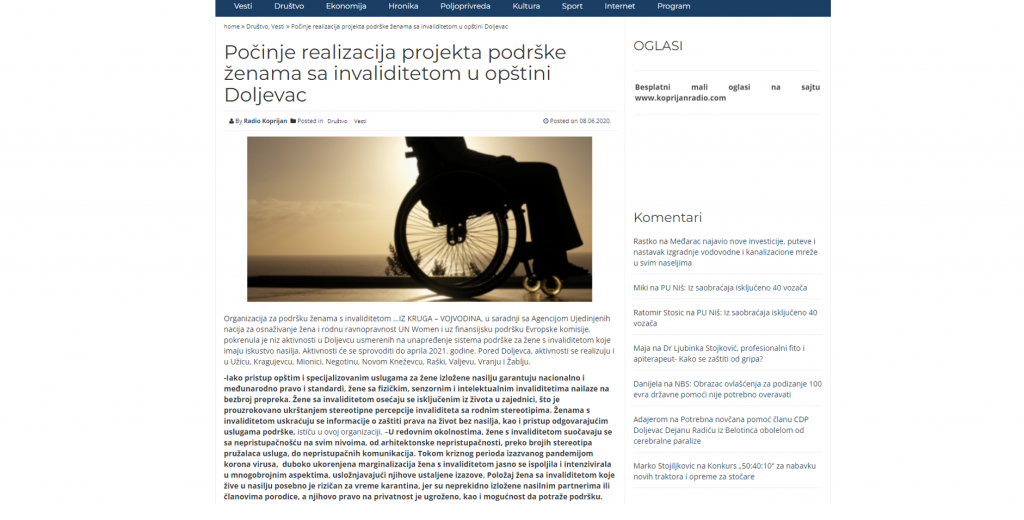 Radio Koprijan – The project for supporting women with disabilities is commencing in Doljevac municipality