Post Date:
25 октобра, 2021
---
...IZ KRUGA – VOJVODINA
The representatives of …IZ KRUGA -VOJVODINA, Svjetlana Timotic and Veronika Mitro, took part in the training (De)construction of Narrative: Tools for Creating a Successful Campaign held on October 23 and 24 in hotel 88 in Belgrade.
Women against Violence Network with the support of Global Fund for Women the leading foundation for supporting initiatives and movements promoting gender equality worldwide, organized the training. The aim was to improve the capacities of the Women against Violence Network for devising and designing successful campaigns.
Lecturers of the Belgrade Cultural Center BeFem, Jelena Visnjic and Natasa Nikanovic, experts for feminist media culture and practice, were engaged for the training. Twelve organizations, representatives of the members, at least one from each of the six regions in Serbia within the Women Against Violence Network participated in the training.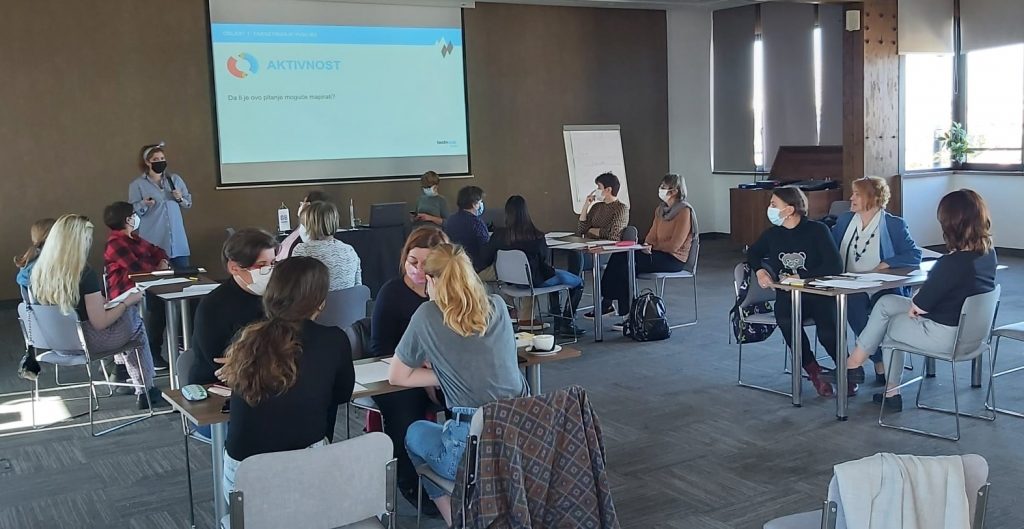 The training participants learned from Jelena Visnjic that feminist media lobbying is a possible instrument for change. Through the exercise, they described the current media and public narrative about women and violence against them. Natasa Ninkovic informed them about tools for creating successful campaigns in fifteen steps. Through group work, they commenced creating campaigns by practicing individual steps: asking the goal question (why don't women believe women that experienced sexual violence), defining the target audience (women between 25 and 35), the choice of influencers that the campaign will target (collective), formulating the statement of the target audience (some women in Serbia between 25 and 35 years old do not believe women that experienced sexual violence because they are afraid to be identified with them in their collectives), formulating the goal of the campaign and new agreed realities (some women in Serbia aged between 25 to 35 start believe women that experienced sexual violence because they consider themselves responsible for creating a new society and feel they are the leaders of change).