Post Date:
8 децембра, 2021
---
...IZ KRUGA – VOJVODINA
Ivana Zelic, a coordinator of the SOS service of …IZ KRUGA – VOJVODINA and dr. Nada Padejski Sekerovic, a psychologist and a manager of the Novi Sad Safe House, spoke at the panel discussion Forum for greater involvement in the 16 Days of Activism Against Violence Against Women Campaign. The panel was organized by the Institute for Youth Politics within the project Young and Safe 5 on December 8, 2021. in the OPENS premises.
The discussion was intended for young people up to 30 years of age, aiming to raise awareness about recognizing gender-based and domestic violence, prevention and informing about available support services for women in violent situations.
Ivana Zelic spoke about violence against women with disabilities, difficulties they face when reporting violence and risk factors for violence against women with disabilities.
– Many women still do not turn to anyone for help, nor do they talk about the violence to which they are exposed. The most common reasons for staying in violent situations are lack of family and close persons support, no place to go, no sufficient income, being afraid of the escalation of violence – said Ivana Zelic.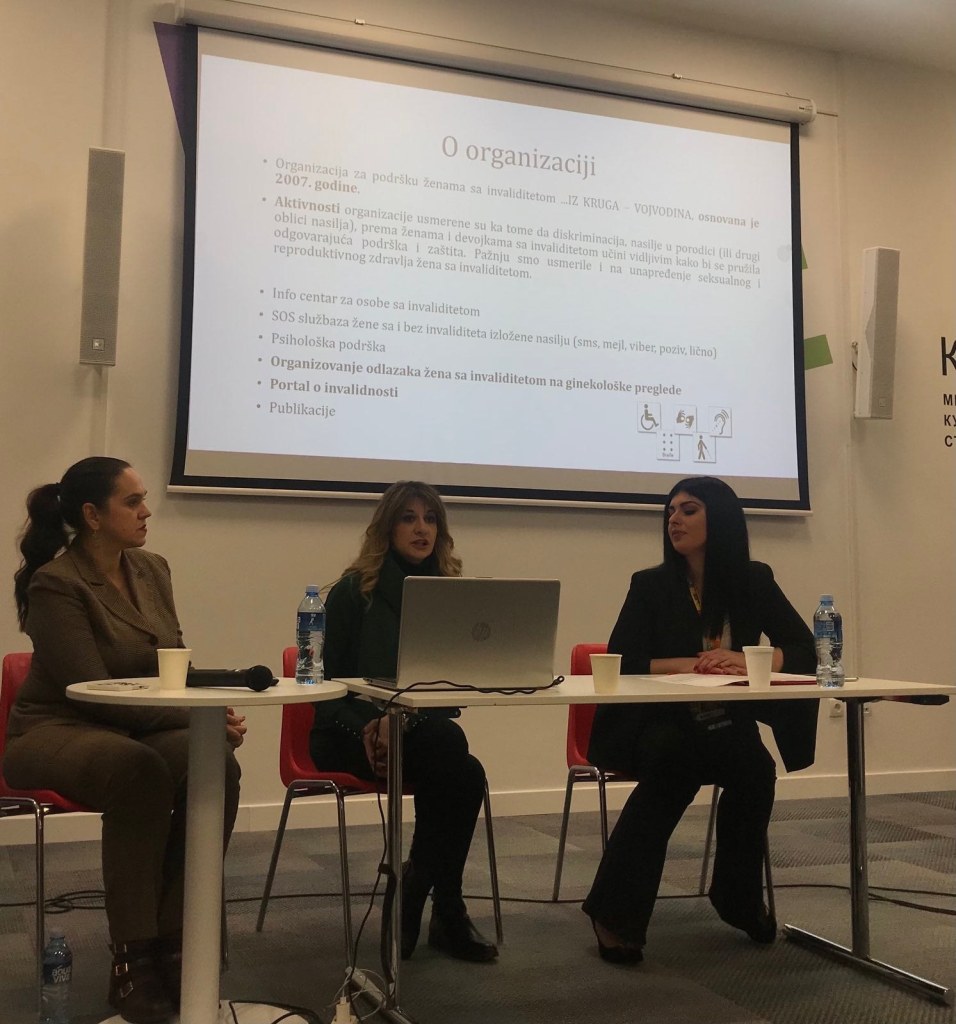 Nada Padejski Sekerovic emphasized the importance of informing young people about the prevention and recognition of violence and sources of support if violence occurs.
–Violence often begins before marriage, but women do not recognize it on time. At the beginning of the partnership, women do not anticipate danger in any way since the perpetrator uses subtle means of control, often thought of as jealousy based on love and not control. The violent partner aims to detach the women from her friends and family and to, by ruining her self-esteem, make the possibility of leaving such a relationship less probable – said Nada Padejski Sekerovic. 
The participants in the discussion concluded that the responsibility for the violence lay solely with the perpetrator and that the process of overcoming a violent relationship is complex but possible. It is significant to work on raising awareness and informing young people about recognizing violence, ways of reporting, making security plans to get out of violence and available community support services that can be contacted for help.
Ines Savuljic, a volunteer at the YOUTH HUB network was a moderator of the panel.