Post Date:
November 29, 2022
---
...IZ KRUGA – VOJVODINA
A coordinator of the SOS service of IZ KRUGA VOJVODINA, Ivana Zelic, gave a speech at the tribune Protection and Support-Pillars of Help for Victims of Domestic Violence, organized by the Women's Safe House of the Social Welfare Center Novi Sad with support of The Bureau of International Narcotics and Law Enforcement Affairs of the US Embassy in the Republic of Serbia.
Students of psychology, law, educational science, social work and media studies attended the tribune in Novi Sad on November 28, 2022. as part of the Campaign 16 Days of Activism against Violence against Women. More than 120 students had a chance to hear 8 representatives of institutions and organizations that provide support and help to women survivors of violence. The tribune aimed to sensitize future professionals to recognize violence and to get familiar with the work of competent services for protection from domestic violence.
Within the panel Protection of victims of domestic violence-legal frame and procedures, the following gave a speech: Slobodan Josimovic, deputy prosecutor in the Higher Public Prosecutor's Office; Daliborka Vojvodic Tomovic, Head of the Group for Combating Juvenile Delinquency and Domestic Violence, Police Department in Novi Sad; Dejana Spasojevic, a lawyer and Daliborka Biljetina, head of the Department for Administrative Legal Affairs, Center for Social Work of the City of Novi Sad. A journalist of the RTV Vojvodina, Tamara Srijemac, acted as a moderator of the first-panel discussion.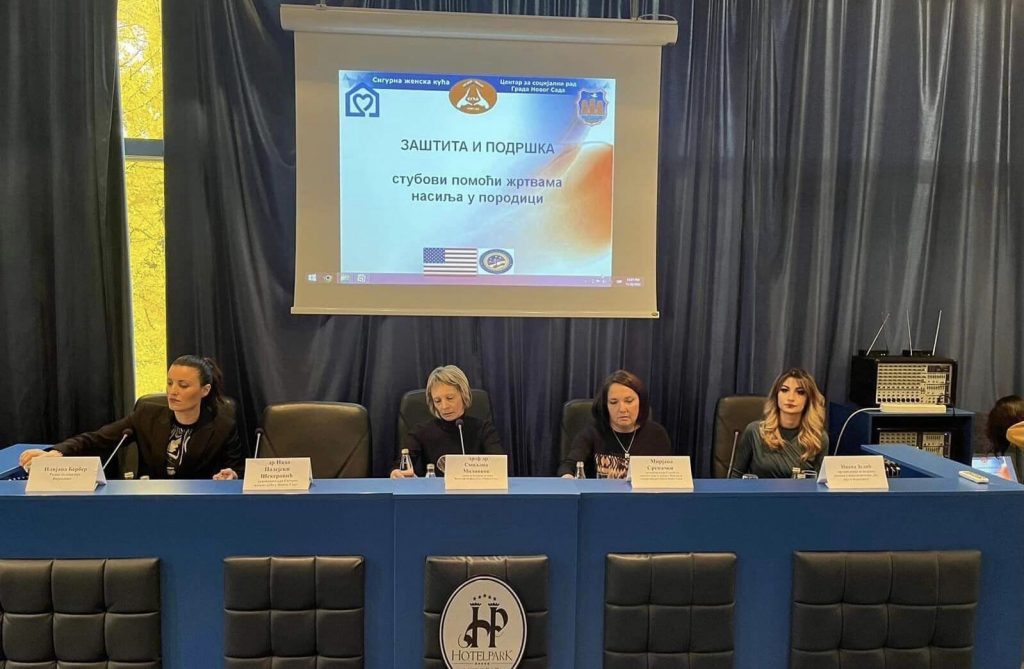 Ivana Zelic in the second panel The Importance of the Support for Victims of Domestic Violence talked about the support IZ KRUGA VOJVODINA provides for women with and without disabilities exposed to violence, risk factors for violence against women with disabilities, the role of women's NGOs and their procedures in dealing with women survivors of violence and the significance of including the NGOs in the Group for Coordination and Cooperation. 
– The role of women's NGOs is to provide continuing support to women who experienced violence and their empowerment to surmount traumatic experiences, get out of violent relationships and regain self-respect. The coordinated action of all institutions is significant in the process of protecting women from gender-based violence, it enables competent support and protection to women exposed to violence – said Ivana Zelic. 
Apart from the representative of IZ KRUGA VOJVODINA, the following spoke at the second panel: PhD. Nada Padejski Sekerovic, head of the Safe Women's House in Novi Sad; prof. PhD Smiljana Milankov, Department for Media Studies, Philosophy Faculty Novi Sad and Mirjana Sremacki, head of the Child and Youth Protection Service, Center for Social Work of the City of Novi Sad. Ilijana Barber, the journalist of RTV Vojvodina, acted as a moderator of the second panel.
The students also had a chance to get familiar with family legal protection measures, multisectoral cooperation of competent protection entities and the manner of reporting about gender-based violence.