Post Date:
August 1, 2023
---
...IZ KRUGA – VOJVODINA
Executive director of IZ KRUGA VOJVODINA, Svjetlana Timotic, signed the Feminist Accessibility Protocol on July 31, 2023, and committed to honoring the set of responsibilities it prescribes in its work. Accessibility is a precondition for equal participation and leadership of feminists with disabilities in feminist areas; it is the responsibility of all of us to ensure we are included.
What is The Feminist Accessibility Protocol?
The Feminist Protocol is an innovative set of thirteen commitments that enable women, girls, trans, intersexual and nonbinary persons with disabilities to be meaningfully included in events and meetings dealing with gender equality.
The protocol demands that states, UN entities, civil society, feminist organizations and other partakers ensure that the discussions about gender equality and premises where decisions about gender equality are made, are fully accessible and inclusive for feminists with disabilities.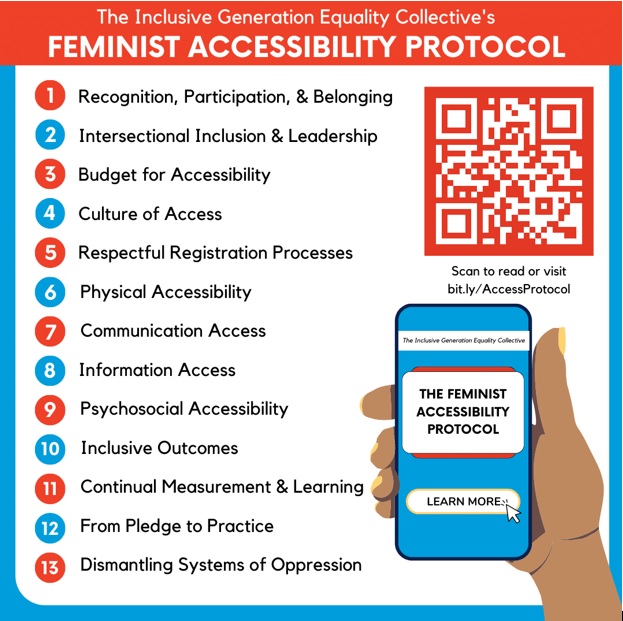 Each of the 13 commitments in the Protocol is a call to action related to a specific aspect of accessibility and inclusiveness in events and meetings, including planning, implementation and all that arose from them.
The Protocol also contains the Annex of good practices on accessibility and the results of focus groups on accessibility in feminist spaces.
The Protocol is an initiative of the Inclusive Generation Equality Collective, a group of activists with disabilities and allies from around the world that advocate for the inclusion of feminists with disabilities and a disability perspective into premises and decisions about gender equality. The Protocol was created in December 2022 as a response to obstacles in the accessibility to gender equality spaces that hindered the participation of feminists with disabilities.
Sign on to the Feminist Accessibility Protocol
If you are a feminist organization, state, state entity or other actor that organizes meetings or events on gender equality, we invite you to sign on to the Protocol and join the efforts to create accessible spaces for gender equality.