Post Date:
September 18, 2018
---
...IZ KRUGA – VOJVODINA
As a member of the SOS Vojvodina Gender-Based and Domestic Violence Prevention Helpline Network, …IZ KRUGA – VOJVODINA, organization providing support to women with disabilities, participates in a CEDAW implementation shadow report-writing project in Serbia. Run by the SOS Vojvodina Network, the project is supported by with UN Women and funded by the European Commission.
During the meeting in Zrenjanin on 14-15 September, member organizations of the SOS Vojvodina Network, together with nearly 15 representatives of other organizations and professionals to be involved in the report writing, discussed its future format, methodology and contents.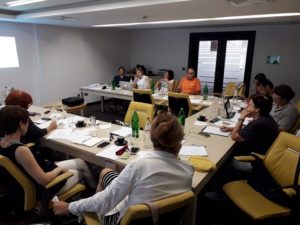 The report will consider discrimination of women in the light of the formal, legal and institutional framework of the Republic of Serbia concerning gender equality, women's participation in public and political life, their education, healthcare and welfare, marital and family issues, gender based and domestic violence, stereotypes and media reporting about women and gender equality. It will contain specific standpoints of a total of 10 groups of multiply marginalized women, such as women with disabilities, Roma, rural and ethnic minority women, single mothers, women prisoners and those living in other residential institutions, women experiencing gender based and domestic violence, as well as women members of the LGBT and migrant communities. This way, the report will point out characteristic problems faced by women from each of these groups.
During 2018, a group of organizations and professionals brought together by the SOS Vojvodina Network for the purpose of this project has already written a shadow report addressed to the GREVIO Committee, the Council of Europe (CoE) body monitoring the implementation of the Istanbul Convention (aka the CoE Convention on Preventing and Combating Violence against Women and Domestic Violence).
Written and translated from Serbian by Ankica Dragin