Post Date:
September 16, 2021
---
...IZ KRUGA – VOJVODINA
A coordinator of the SOS service of the Organization …IZ KRUGA – VOJVODINA, Ivana Zelic, successfully completed the training for trainers organized by The Knowledge and Skills Production Center. The course had two modules that lasted for two days, six hours per day and was held in Hotel Novi Sad.
The first module was on June 26th and 27th the second was on September 11th and 12th.
Training for the trainers is intended for people who wish to actively transfer knowledge and skills, regardless of their previous experience and education. The goal of the course is to acquire knowledge and skills that will help future trainers to transfer knowledge to others, independently prepare and hold trainings, to organize workshops, seminars and programs for accreditation in social welfare, health, or education area on their own.
Ivana Zelic paired up with Ivan Vasiljevic, the social welfare worker and supervisor in service for the care of adults and the elderly of the Social Welfare Center Sava from Sremska Mitrovica. They prepared a session training exercise – Concept and Kinds of Violence against Women with Disabilities.
The session encompasses themes of gender-based violence against women, with an emphasis on women with disabilities, types and manifestations of violence, specific forms of violence, statistical representation of the frequency of violence and power and control wheel.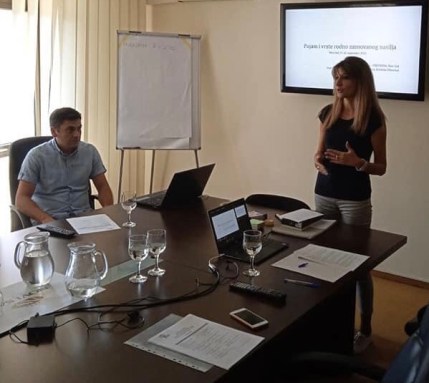 – Training for trainers promoted my competence and enriched my professional experience. I gained new knowledge and skills that will contribute to becoming a good trainer for gender – based violence – says Ivana Zelic.
The program encompasses aspects of the role of a trainer in the learning process, traits of a good trainer, methods and techniques applied during the training, public performance and presentation skills, work with difficult participants, work in couples or teams.
The authors and the executors of the program were: Tatjana Lazor Obradovic, graduate special education teacher, program manager of the Knowledge and Skill Production Center, REBT counselor and Ivana Koprivica, manager of the Center for facilitating families and adoptees in Novi Sad, counselor and psychotherapist under supervision.