Post Date:
October 30, 2023
---
...IZ KRUGA – VOJVODINA
IZ KRUGA VOJVODINA organized a workshop, With Laughter to Self-confidence, within The Eight Festival of Mental Health. The mental health festival in Novi Sad was marked by the organization of various activities on the theme of EMPATHY from October 10, The World Day of Mental Health, to October 20. 
The workshop With Laughter towards Self-confidence took place in the architecturally accessible premises of IZ KRUGA VOJVODINA, in Bulevar vojvode Stepe 67, on Monday, October 16, 2023, from 9-11 a.am.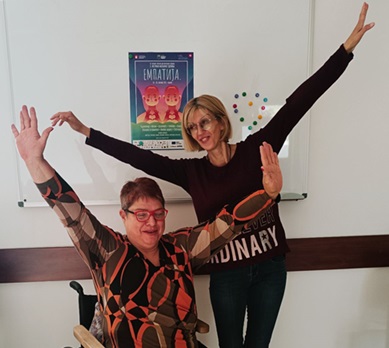 The workshop leader was Tatjana Stojsic Petkovic, a psychologist and laughter yoga leader who has been entailing laughter in individual and group therapy and counseling of women exposed to violence and persons with disabilities for more than seven years.
The aim of the workshop With Laughter Towards Self-confidence was to familiarize the participants through interactive work with laughing techniques, gain insight into the phenomenon of laughter, recognize its impact on current mood, and learn to apply it in everyday life and thus enhance the quality of life.
Thirteen participants with mental and physical disabilities took part in the workshop.
Given that the subject of this year's mental health festival was empathy, the workshop aimed to bring its meaning closer to persons with intellectual disabilities. Laughter exercises steered towards showing that laughter mustn't be a mockery and that when we laugh heartily, we have positive thoughts about ourselves and others. The participants talked about self-confidence, acted, sang, and, of course, laughed during the workshop.
The participants were delighted with the workshop. Some said they could hardly wait to come again, others that they enjoyed themselves, felt happy and joy, learned something new and that they knew what empathy was then.