---
...IZ KRUGA – VOJVODINA
European Women's Lobby (EWL) hosted a consultative meeting with women's civil society organizations (CSOs) from six countries of the Western Balkans and Turkey in Skopje, Macedonia, from 23 to 25 July. The meeting was one of the activities of the EWL project entitled Regional Forum for Promotion and Monitoring of Implementation of the Istanbul Convention in Six Countries of the Western Balkans and Turkey. This project is a part of the UN Women Ending Violence against Women and Girls: Implementing Norms, Changing Minds Program.
One among  over 20 organizations from Albania, Bosnia and Herzegovina, Croatia, Kosovo, Macedonia, Montenegro, Serbia and Turkey attending the meeting was also … IZ KRUGA – VOJVODINA.
The meeting was a chance to discuss the progress and challenges faced by attending countries concerning implementation of the Council of Europe (CoE) Convention on Preventing and Combating Violence against Women and Domestic Violence (Istanbul Convention) and Convention on the Elimination of All Forms of Discrimination against Women (CEDAW Convention), with an aim to formulate recommendations for the Regional Forum to be held in November 2018. A special Forum topic will be advancing mechanisms of cooperation among CSOs, state authorities – starting from the governments of the project countries, as well as other relevant actors interested in implementation of the Istanbul Convention and monitoring its effects.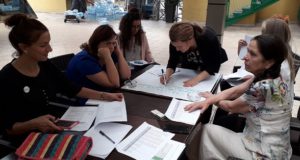 EWL recognizes the CSO expertize and contribution to combating violence against women, victim's protection, women's rights promotion and instigating state authorities to fulfill their international commitments, as well as to monitoring the implementation of the Istanbul Convention and shadow report writing. Bearing in mind the socio-political and cultural (dis)similarities among the project countries, it is expected that the situation analysis to be completed ahead of the Forum will contribute to regional experience-sharing and establishing effective mechanisms of handling cases of domestic and violence against women. Standards proscribed by the Istanbul Convention should transpire not only in adopting relevant policies and legislation, but in their consistent implementation as well, amongst others by means of establishing an efficient system of providing support and protection to all women experiencing any kind of gender-based or domestic violence. Therefore, as stated in the concluding part of the meeting, it is of utmost importance for the Regional Forum to include not only decision-makers, but also representatives of women's CSOs providing support to women from various walks of life, especially those from multiply discriminated social groups, such as women with disabilities.
Written and translated from Serbian by Ankica Dragin