---
...IZ KRUGA – VOJVODINA
A Society for Supporting People with Autism Spectrum Disorder of the City of Novi Sad organized two-and-a-half hours Talks on Autism in its premises on April 26, 2023. A presentation based on contemporary theories and methods, which was unusually interestingly prepared and interestingly and interactively presented by pedagogue Dr. Otilija Velisek-Brasko and Master special educator Maria Svilar Radulovic served as a basis for the discussion.
This informative event was organized on the occasion of The Month of Raising Awareness about Autism Spectrum Disorder for parents of children and young people with autism spectrum disorder, representatives of local media, organizations of persons with disabilities, and the interested public. The participants were able to get familiar with the activities of Society and some topics related to autism spectrum disorder and to exchange their knowledge and experience. On behalf of IZ KRUGA VOJVODINA, psychologist Tatjana Stojsic-Petkovic actively participated in the event.
The Society for Supporting Persons with Autism Spectrum Disorder of the city of Novi Sad has approximately seventy members. The youngest member is seven years old, and the average age of the Society is eighteen years, which tells us it is an association of young people.
Children and young persons with autism spectrum disorder, apart from difficulties in social communication and interaction, have limited and/or repetitive behavior conditioned by sensory processing.
The spectrum of autism is not linear, but different characteristics are present in disparate ways for various people.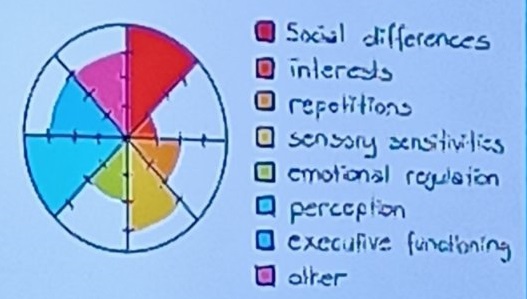 A common feature of all persons with autism spectrum disorder is that the symptoms are clinically significant, limit daily functioning, and affect the quality of life. The symptoms do not have to be present, that is, obvious in the early period of development, but can remain hidden until social demands overwhelm abilities or can no longer stay masked by learned strategies.
The parent's reaction to finding out that their child has developmental difficulties and difficulties in functioning goes through six stages: shock, sorrow and pain, anger, denial, loneliness, and acceptance. To reach acceptance, they most commonly go through all the previous phases, and some of them stay stuck in one of them. A common hindrance in accepting their children's autism is equating symptoms with diagnosis, and we often hear them say:
He looks me in the eye; he can't be a child with an autism spectrum disorder.
She likes to cuddle.
She is smart, know numbers and letters, and are only three years old.
He simply likes to play like that; that's how he is.
Hi is like his father; he didn't speak until he was four.
Children and young persons with autism spectrum disorder are mutually different, and observing them as unique individuals and respecting their integrity is significant. In order for interventions to have an effect, a certain amount of tolerance for diversity is needed, which is often lacking. No intervention, no matter how advanced and based on evidence, has the same effect on all persons with autism spectrum disorder, or the intervention that might be equally efficient in different periods of life. During designing the intervention program, it is significant to rely on the existing capacities and affinities of each person because scientifically recognized intervention might be beneficial for one person with autism spectrum disorder and worthless for the other without jeopardizing their health; and for the third one, it could be harmful.
The participants were presented with the existing literature and saw a short film Carly's Café – Experience Autism through Carly's Eyes.