Post Date:
August 30, 2018
---
...IZ KRUGA – VOJVODINA
This summer, …IZ KRUGA – VOJVODINA was a part of the Trans2Work Project providing youth with disabilities from Bosnia and Herzegovina, Montenegro and Serbia with traineeship opportunities. This project, supported by the Erasmus + Program as well, aims at increasing employability of young people with disabilities upon finishing their university studies. It is a sequel to some other similar projects previously implemented in Greece, Macedonia and Slovenia, too. The Trans2Work Project is a cooperation platform for 23 universities, other institutions and organizations from the Balkans willing to engage in vocational training of future young professionals by providing them with traineeship opportunities during their studies.
Last July, following a cooperation offer from the University of Novi Sad, …IZ KRUGA – VOJDOVINA became a two-month traineeship host to Miladinka Mijatović, a future social worker. Miladinka is from Bijeljina, Bosnia and Herzegovina, and a senior at the Faculty of Political Studies with the University of Banja Luka. Thanks to a one-month internship during her sophomore year, she has already had an opportunity to experience working with socially vulnerable groups in the local Welfare Center in Bijeljina. Her stay in Novi Sad, however, was her first professional and, as she put it, traineeship for life:
'This traineeship was my first opportunity ever to live and work in another country for a longer time. Moreover, with colleagues I'd met only on my first day at the office,' replies Miladinka to the question about her reasons to apply for the Trans2Work Project. 'It was also my chance to gain a new, in my opinion very important, experience. A chance to meet people, to make new friends.'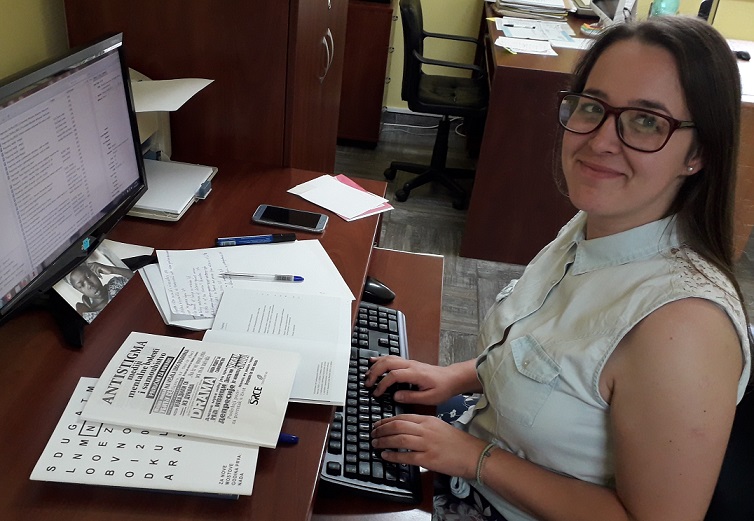 Her experience in the welfare center taught Miladinka that its staff must work with everyone who comes through its doors: families, children, women, the poor, old and ill. The focus is on implementing regulations and various proceedings in order to provide all who address the center with support they are legally entitled to. She chose …IZ KRUGA – VOJVODINA because she liked the fact that it provides specialized support services for women with disabilities, such that would otherwise be barely available to them. Her two-month stay in Novi Sad, where she also visited other organizations working with socially deprived groups, helped Miladinka understand that rights of persons with disabilities was what she would like to be most involved with in the future:
'The approach of the welfare centers, institutions is such that persons with disabilities are most often perceived as ill. It also makes them somehow invisible. They blend into the crowd, so people think they need nothing more than orthopedic aids and medicines. My roommate in the students' dorm is a girl with a disability using a scooter. Until I had met her, I had no idea, for instance, where and how grave the obstacles to wheelchair users or persons having trouble walking were. Living with them makes you think. It makes you wish to do something to change things for the better.'
Besides her colleagues' mentorship, another particular thing that Miladinka liked during her traineeship was access to the library of the organization. Still, her most precious experience was that of being involved in project activities of …IZ KRUGA – VOJVODINA:
'I expected to come to a place where women would get together and just socialize, the way they do in most disabled persons' associations. I was surprised to see the exceptional, not everyday topics and activities of your organization. It seems to me that issues concerning violence against women with disabilities, their sexuality and reproductive health, along with individual psychological support to them, are rare and not common in the work of associations of persons with disabilities. Then the focus groups! We have learnt about them at the university, but here I've had a chance to participate in their organization and to see them "live". The entire experience over here has definitely surpassed my expectations.'
Asked about her most valued experience during her traineeship in …IZ KRUGA – VOJVODINA, Miladinka points out the positive, supportive atmosphere at the office and feeling like a team member:
'Whatever I wanted to ask, to know, it was right here, within my reach. And I don't mean only books, but colleagues as well. You took me everywhere, side by side, to other organizations, to see how the system works. I've learnt much more than I thought I would, and not only about working with persons with disabilities. I 've learnt how an organization functions. I simply realized that this is where I see myself and that I could do precisely the things you are doing, dealing with the same issues.'
This week, Miladinka is, and according to her own account, ending her traineeship additionally motivated to finish her studies as soon as possible. Her graduation paper topic will be an issue she has been dealing with this summer. Another year of studies is before her and she hopes to reach her goals: finish her studies in due time and find a job to work with persons with disabilities. Judging from the last two months of cooperation with Miladinka, her colleagues from …IZ KRUGA – VOJVODINA are convinced she will, most certainly, do it all.
Written and translated from Serbian by Ankica Dragin